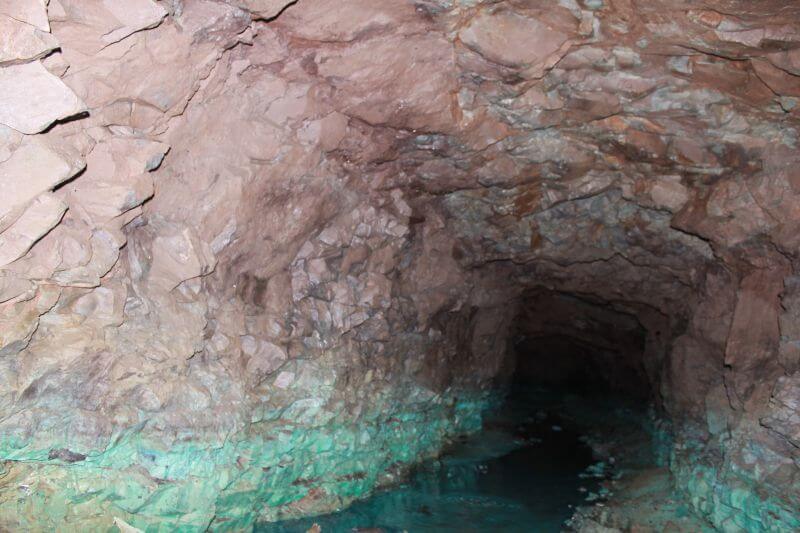 Goseong Cu-Au-Ag Project
The Goseong district is situated in the southern coastal region of Korea, about 30km southeast of Haman. It was the principal copper-producing region of South Korea from the end of World War II through to 1985. High-grade Cu-Au-Ag sulphide mineralization occurs in narrow veins and sheeted vein stockworks of likely iron oxide copper-gold magmatic-hydrothermal mineralization style. Shin Han holds 5 Exploration Rights through to 2029.
Previous exploration by the KMPC report combined remaining historical mine reserves based on underground adit rock chip channel sampling at the Jinheung, Samsan-Jaeil, Samsan, Sambong and Buyeong mines of 538,575 tonnes at 6.08% Cu, 1.54g/t Au and 395g/t Ag for contained metal of 33,624t of copper, 30,294oz gold and 6,916,688oz silver. Only limited historical drilling was undertaken. Most of the historical underground mine workings still remain open and accessible for exploration.
---
Cautionary Statement: It should be noted these Mineral Resource Estimates were reported by the Korean Mining Promotion Corporation (1980-1992) and are Historical in nature and do not comply with current NI-43-101 or 2012 JORC reporting requirements. It is uncertain if further exploration will confirm these resources.
---
Exploration Target Compilation Map
Exploration Targets are labelled T1 – T6.
Stockwork sheeted vein targets are highlighted in yellow.
The "K-channel" anomalies (>50cps) are outlined in green shading (inferred phyllic alteration).
Intense "bulls eye" magnetic high anomaly highlighted in red is quartz diorite intrusion.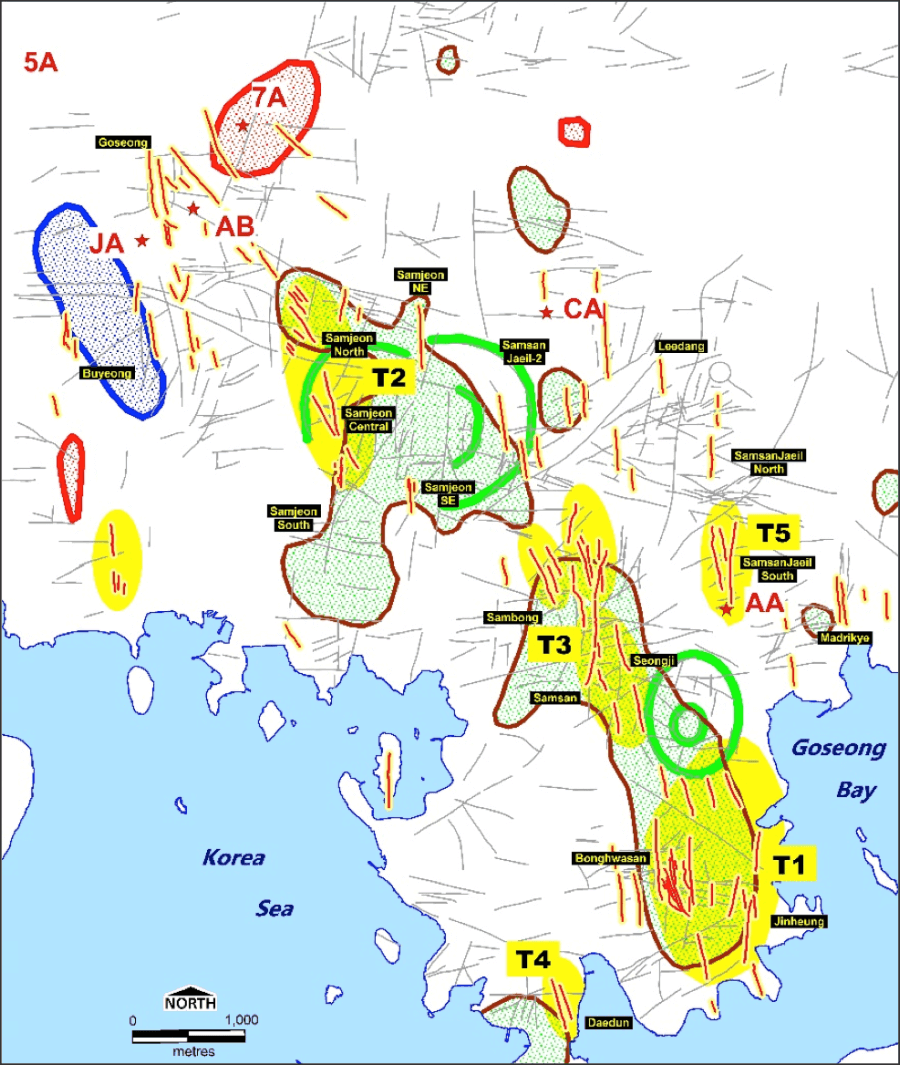 Exploration Targets, Goseong Project
Mine
Tonnes
(Million t)
Grade Cu
(%)
Grade Au
(g/t)
Grade
(g/t)
Jinheung
0.2-0.5
5.5-10.1
1.7-2.3
460-620
Samsan - Jaeil
0.0-0.1
1.7-3.0
NR
45-95
Samsan
0.0-0.1
1.7-2.7
NR
120-240
Sambong
0.0-0.1
1.2-2.1
0.6-1.2
120-240
Buyeong
0.0-0.1
0.4-0.8
NR
NR
Buyeong-2
0.0-0.1
1.1-1.8
1.9-3.0
35-7555
TOTALS
0.2-1.0
3.2-7.1
1.1-1.8
200-500
NOTE:  NR = Not Recorded
---
Cautionary Statement: These Exploration Targets are conceptual in nature and there has been insufficient exploration carried out to estimate a Mineral Resource and it is uncertain if further exploration will result in the Exploration Targets being delineated as a Mineral Resource.
---
Mineralisation
Hydrothermal breccias, numerous sub-parallel veins, splays and microveinlets are developed around the main vein structures, indicating significant stockworks are present at these deposits. Specularite alteration is a characteristic feature and the Cu-Au-Ag ±Bi-Pb-Zn-As-Co mineralization probably fits the transitional epithermal porphyry copper-gold geological model.
High-priority bulk tonnage Exploration Targets warranting drill testing have been identified at the Jinheung mine (T1 Target), Samjeon mine (T2 Target), Samsan-Seongji mines (T3 Target), and the Samsanjaeil mines (T5 Target).