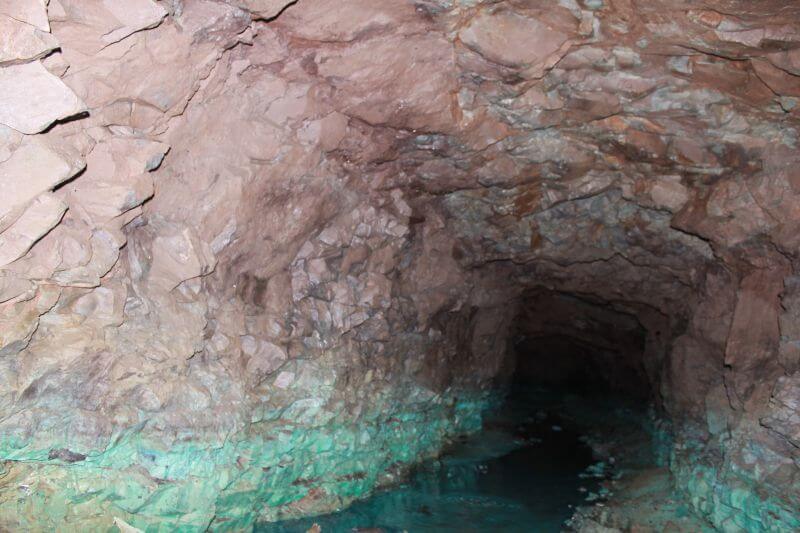 Goseong Cu-Au-Ag Project
The Goseong district is situated in the southern coastal region of Korea, about 30km southeast of Haman. It was the principal copper-producing region of South Korea from the end of World War II through to 1985. High-grade Cu-Au-Ag sulphide mineralization occurs in narrow veins and sheeted vein stockworks of likely iron oxide copper-gold magmatic-hydrothermal mineralization style. Shin Han holds 3 mining rights through to 2024.
Previous exploration by the KMPC report combined remaining historical mine reserves based on underground adit rock chip channel sampling at the Jinheung, Samsan-Jaeil, Samsan, Sambong and Buyeong mines of 538,575 tonnes at 6.08% Cu, 1.54g/t Au and 395g/t Ag for contained metal of 33,624t of copper, 30,294oz gold and 6,916,688oz silver. These resources represent an insitu value (August 2017 metal prices) of approximately US$361 million. Only limited historical drilling was undertaken. Most of the historical underground mine workings still remain open and accessible for exploration.
---
Cautionary Statement: It should be noted these Mineral Resource Estimates were reported by the Korean Mining Promotion Corporation (1980-1992) and are Historical in nature and do not comply with current NI-43-101 or 2012 JORC reporting requirements. It is uncertain if further exploration will confirm these resources.
---
Exploration Target Compilation Map
Exploration Targets are labelled T1 – T6.
Stockwork sheeted vein targets are highlighted in yellow.
The "K-channel" anomalies (>50cps) are outlined in green shading (inferred phyllic alteration).
Intense "bulls eye" magnetic high anomaly highlighted in red is quartz diorite intrusion.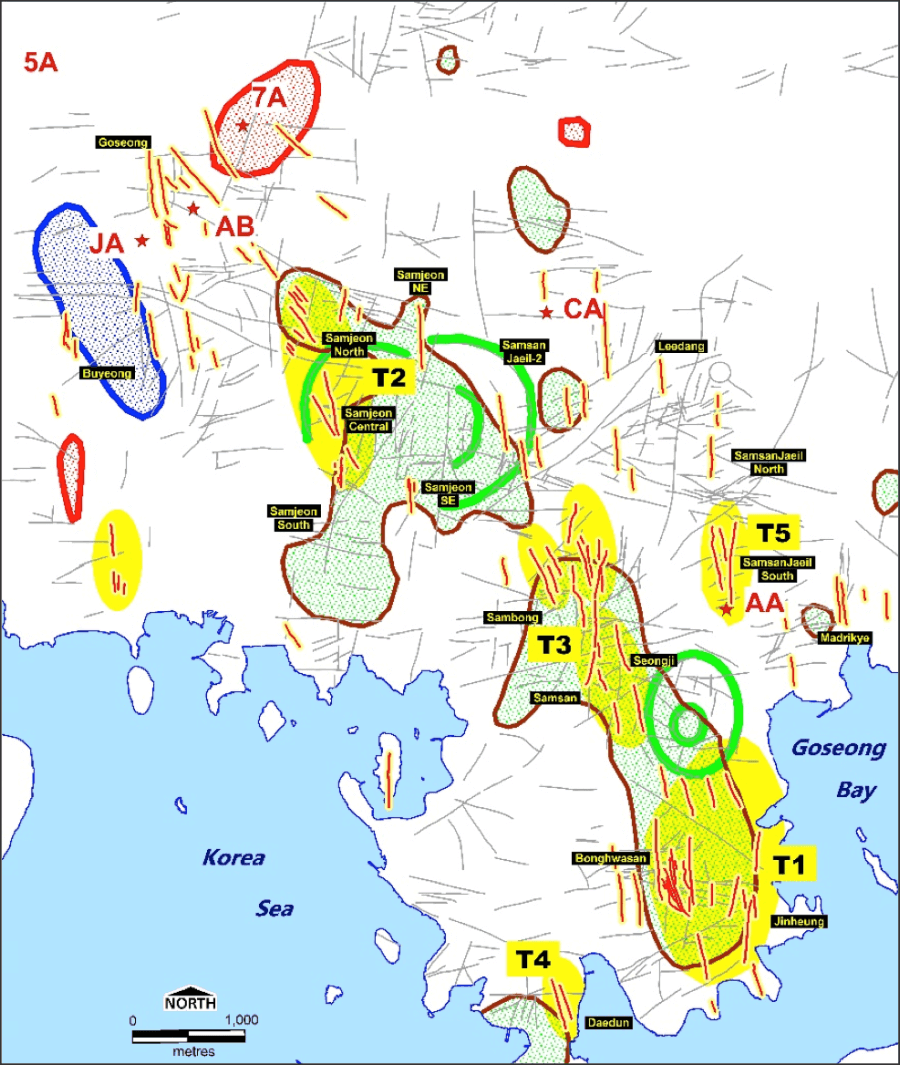 Mineralisation
Hydrothermal breccias, numerous sub-parallel veins, splays and microveinlets are developed around the main vein structures, indicating significant stockworks are present at these deposits. Specularite alteration is a characteristic feature and the Cu-Au-Ag ±Bi-Pb-Zn-As-Co mineralization probably fits the transitional epithermal porphyry copper-gold geological model.
High-priority bulk tonnage Exploration Targets warranting drill testing have been identified at the Jinheung mine (T1 Target), Samjeon mine (T2 Target), Samsan-Seongji mines (T3 Target), and the Samsanjaeil mines (T5 Target).
Brisbane Office:
Korean Metals Exploration Pty Ltd
21 Pandian Crescent
Bellbowrie
QLD. 4070.
Australia.
Email: chris@koreanmetals.com
 Phone:   +61  413 314 750
Seoul Office:
Shin Han Mine Inc
Bangi-Dong, Arcroffice Suite 413
4F
Olympic-Ro 30 Gil
Seongpa-Gu
Seoul
Republic of Korea
Email: kim@koreanmetals.com
 Phone:   +82  1099314934