Uiseong Au-Cu-Ag-Pb-Zn Project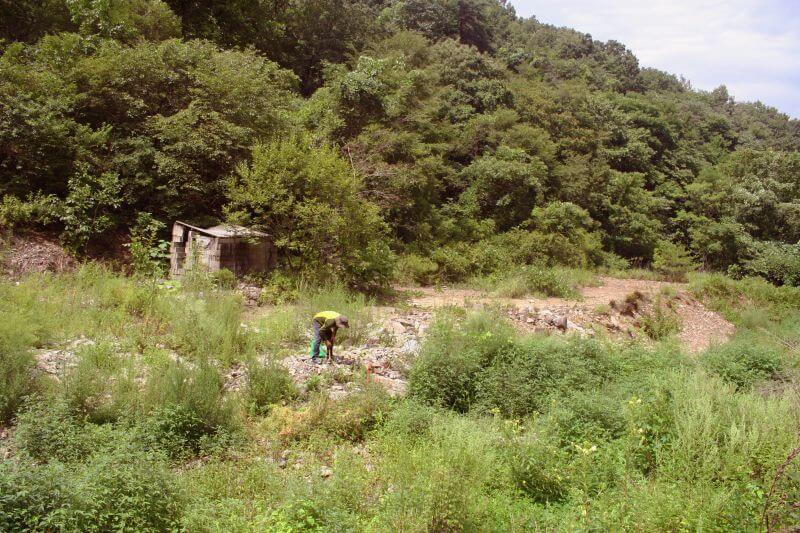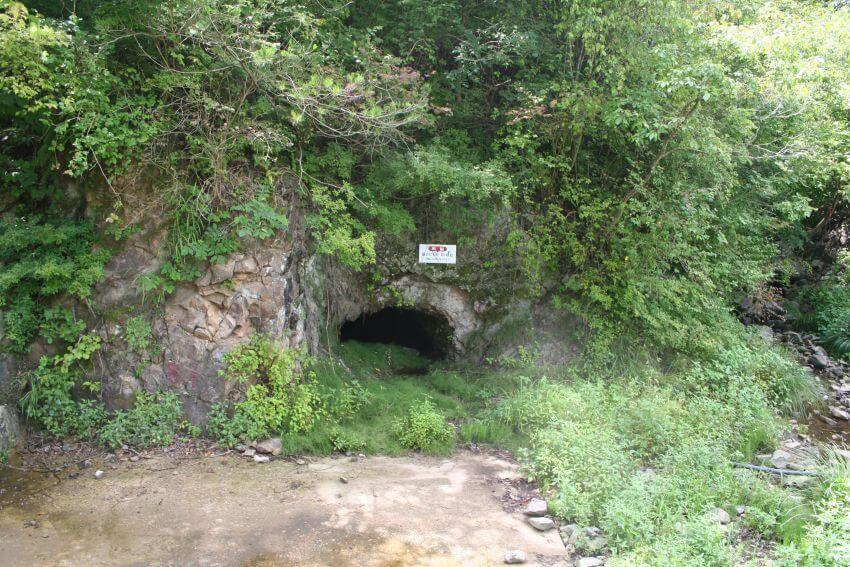 Uiseong Au-Ag-Cu-Pb-Zn Project
The Uiseong gold-silver-polymetallic project is situated in the Gyeongsang Basin, in the southeastern region of South Korea, approximately 220km southeast of Seoul. Within the Uiseong project, intermediate-sulphidation, epithermal Au-Cu-Zn-Ag-Pb mineralization ("Mexican" style) is associated with veins, stockworks, breccias and disseminated sulphides, hosted in volcano-sediments and a rhyodacite lava dome intrusion, emplaced into the Geumseongsan maar-diatreme caldera complex.
KME has identified potentially open-pittable Exploration Targets of 3.4MozAuEq at 5.13g/t AuEq at the historic Dongil, Ogsan, Jeonheung and Kyungwha mines (within a 6km radius). Shin Han holds 10 mining rights over the Uiseong Project through to 2031.
Historical Mining & Exploration
The Uiseong Metallogenic Province was mainly a precious metal producing district during the Japanese occupation period up to 1945. Production of base metal flotation concentrates occurred during 1968-1988, with selective flotation mills operating at the Jeonheung-Kamkye (100tpd) and Cheongsong (30tpd) mines. A mobile pilot flotation plant (10tpd) was used to process high-grade ores from the smaller mines.
Historical exploration in the region was undertaken by the Korean Mining Promotion Corporation ("KMPC") during the 1970's and the Korean Institute of Energy & Resources ("KIER") during the 1980's. Exploration activities included basic geological mapping, underground adit mapping and sampling, ground geophysical surveys and diamond drilling in several campaigns. Mineralization paragenetic studies were completed on several deposits during the 1990's by university researchers. A total of 93 diamond drill holes (total 14,500 metres AX core) was completed in the Uiseong district between 1971-1983. Sampling of the narrow diameter AX size drill core was incomplete in nature, with no sampling outside of obvious high-grade mineralized zones. The estimated expenditure on this historical exploration and establishment of mines was more than US$30M.
Resource Estimates
Senlac Geological Services Pty Ltd (2018) compiled a digital database of the historical drilling data and has estimated several Inferred Mineral Resources and Exploration Targets within the Uiseong project, as tabulated below.
Mine / Deposit

Tonnes

(t)

Grade AuEq

(g/t)

Contained Oz

(AuEq)

Grade

Au (%)

Grade

Ag (g/t)

Grade

Cu (%)

Grade

Pb (%)

Grade

Zn (%)

Dongil

9,234,500

4.65

1,380,160

1.19

44

0.96

1.05

1.05

Ogsan

3,006,300

10.61

1,075,197

1.32

61

3.24

3.95

1.60

Kyungwha

4,802,215

3.53

544,888

0.25

42

0.66

1.69

0.98

Jeonheung-Kamkye

2,470,655

4.06

322,527

1.90

39

0.46

0.67

0.73

Keumdongchilbo

1,320,770

3.77

159,921

0.88

33

0.00

2.05

1.73

TOTALS

20,834,440

5.13

3,433,471

1.06

44

1.10

1.63

1.12
Notes:  AuEq was calculated using metal prices as at August 2017:
Au = US$1284/oz, Ag = US$16.94/oz, Cu = US$2.93/lb, Pb = US1.06/lb & Zn = US$1.41/lb.
---
Cautionary Statement: It should be noted these inferred Mineral Resource Estimates and Exploration Targets are based on historical drilling and do not comply with current NI-43-101 or 2012 JORC reporting requirements. They are classified as Exploration Targets based on drilling density, incomplete sampling and assaying and lack of QA/QC procedures. It is uncertain if further exploration will confirm these resources.
---
The combined resources of the Dongil, Ogsan, Kyungwha and Jeonheung deposits are 20.8Mt @ 1.06g/t Au, 44g/t Ag, 1.10% Cu, 1.64% Pb and 1.13% Zn. The combined resources have contained metals of 707,291 ounces gold, 29,777,336 ounces of silver, 229,177 tonnes of copper, 340,582 tonnes of lead and 233,551 tonnes of zinc. The combined contained metals have an estimated insitu value of about US$4,408,577,084 (approximately US$212/t), approximately equivalent to 3.4 million ounces of gold using metal prices as of August 2017. Metal equivalent grades are 5.15g/t AuEq, 390g/t AgEq, 3.29% CuEq, 9.09% PbEq and 6.83% ZnEq. The metal value distribution of the combined deposits is approximately 33% copper, 21% gold, 18% lead, 16% zinc and 12% silver.
Geology
Geologically, the Uiseong sub-basin consists of gently southeast to east-dipping sequence of Gyeongsang Basin sediments, sequentially comprising the Early Cretaceous Jeomgog, Sagog, and Chunsan Formations of the Cycle 2 Hayang Group sequence.
Early biotite granite, diorite, andesite porphyry, and later rhyodacite/quartz porphyry domes and basalt of the Bulgugsa Series have intruded the sediments during the late Cretaceous. This igneous rock suite is consistent with a multi-phase, highly-evolved and fractionated, co-magmatic, tholeiitic to calc-alkaline plutonic complex.
Circular caldera/cauldron-collapse fault structures surround the Geumseongsan maar-diatreme complex and were infilled by coeval deposition of sediments, volcaniclastics and volcanics of the Late Cretaceous-Tertiary Cycle 3 Yuchon Group.
Basal black shales of the Shinyangdong Formation are overlain sequentially by lamproite-basaltic lavas (Osipong Volcanics), andesite tuffs and lavas (Jususan Andesite) and surge-type rhyolitic pyroclastics (Unmunsa Rhyolite), indicating bimodal volcanism.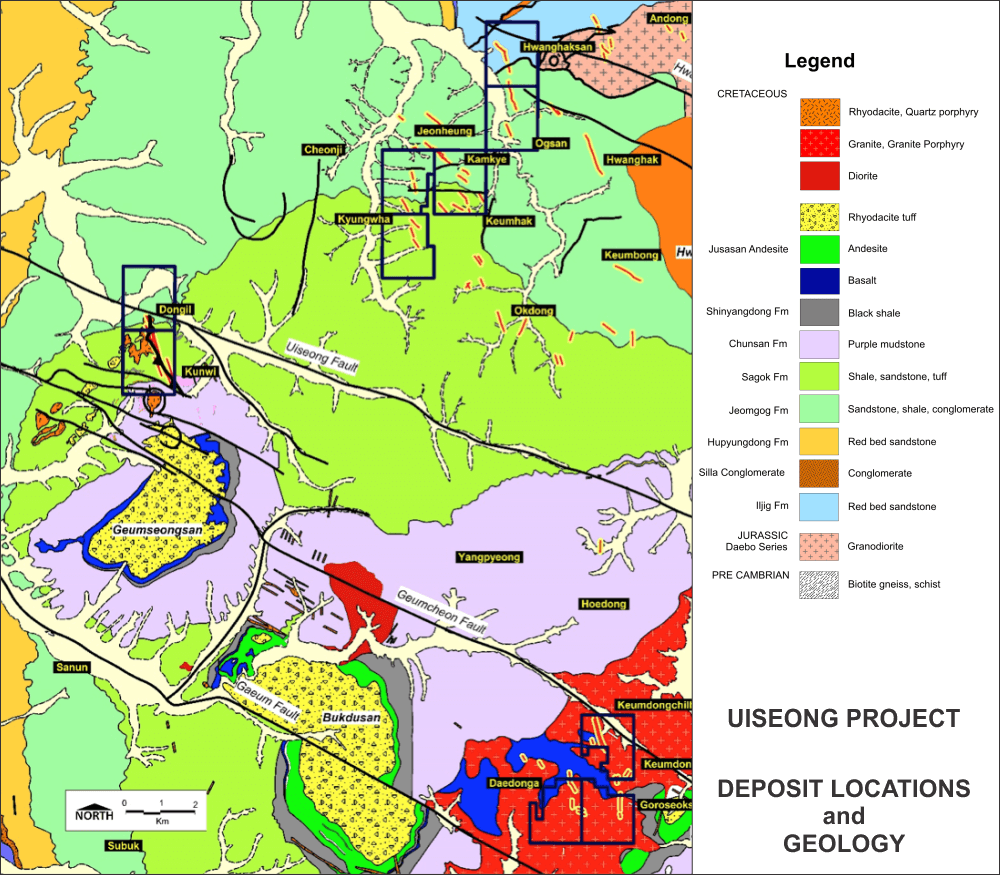 Dongil Mine
Mineralisation
Mineralization consists of fissure-veins surrounded by wider stockwork and disseminated sulphide alteration zones, which trend NNW and occur in strike extensive and sub-parallel sheeted en-echelon and relay vein array arrangements. The mineralized structures are strike extensive and extend to a vertical depth of >450m.
Click below to watch video of Drone overflight of Dongil >
The Au-Ag-Cu-Pb-Zn mineralization is classified as intermediate-sulphidation (5-10% S), epithermal style, depositing at shallow to deep epithermal levels (200-1000m). The mineralization was probably derived from the mixing of a distal, magmatically-derived fluid with dilute meteoric waters. The age of mineralization is constrained to the period 78-60 Ma and suggest the hydrothermal systems of the Uiseong district may have been active over a period of up to 18 million years.
Early high-temperature (250-350oC), moderate salinity (1-7 wt% NaCl) hydrothermal fluids initially deposited quartz veining and disseminations of Cu-Zn-Pb-Fe-As sulphides, followed by boiling, an over-pressuring breccia event, then mixing, dilution and cooling with meteoric waters which deposited Au-Ag and Ag-Sb-Bi sulphosalts at lower temperatures (200-300oC).
Dongil Mine – Geology and drill sections
Exploration Model
The "Mexican" intermediate-sulphidation, Au-Ag-polymetallic epithermal mineralization style is the preferred exploration model for the Uiseong deposits. Fissure veins, breccias and disseminated mineralization hosted within lava domes and volcanoclastics are the main exploration targets.
Structural analysis indicates the NNW striking mineralized structures are dilation sheeted veins, dilational jogs and horsetail splays and tension veins. Breccias and stockworks can be expected to develop at competent rock contrasts (ie fine-grained sediments and dyke margins).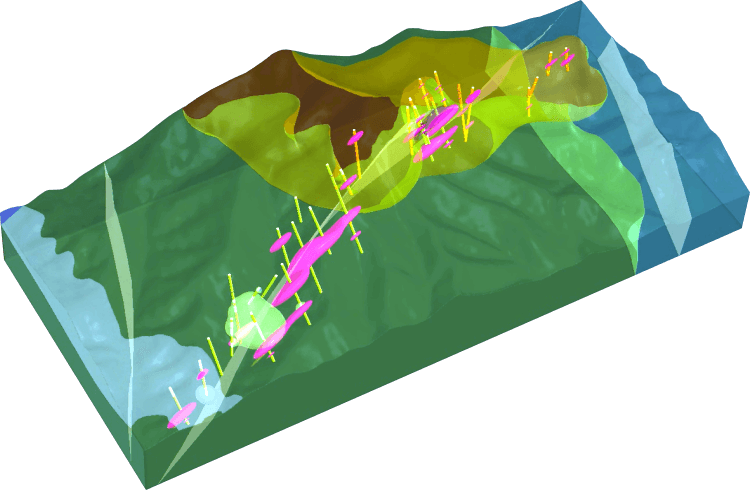 3D Model of Dongil (looking northwest)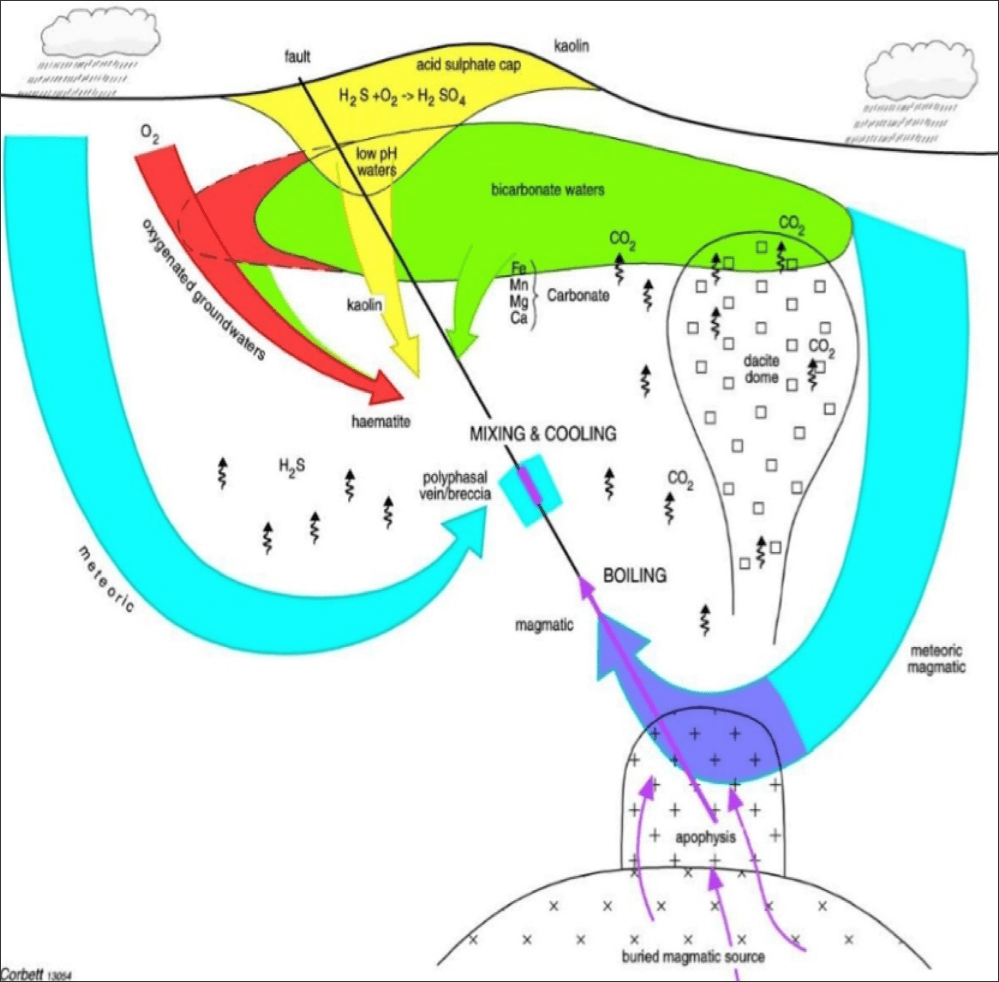 Brisbane Office:
Korean Metals Exploration Pty Ltd
21 Pandian Crescent
Bellbowrie
QLD. 4070.
Australia.
Email: chris@koreanmetals.com
 Phone:   +61  413 314 750
Seoul Office:
Shin Han Mine Inc
Bangi-Dong, Arcroffice Suite 413
4F
Olympic-Ro 30 Gil
Seongpa-Gu
Seoul
Republic of Korea
Email: kim@koreanmetals.com
 Phone:   +82  1099314934